Discover more from Jubilantly Jason June!
Thoughts, updates, and book news from writer mermaid, Jason June!
Can You Feel the Love? (JAY Cover Reveal!)
In Which We Take a Look at the JAY'S GAY AGENDA COVER, Y'ALL!! 😱
This is literally a day I've been dreaming about my entire author life! The other is starting an intimate book club with the Jennifers (Aniston, Garner, Hudson, Lawrence, and Lopez), but since none of them have replied to my emails, I am more than happy for this other dream to come true.
I present to you…the JAY'S GAY AGENDA COVER!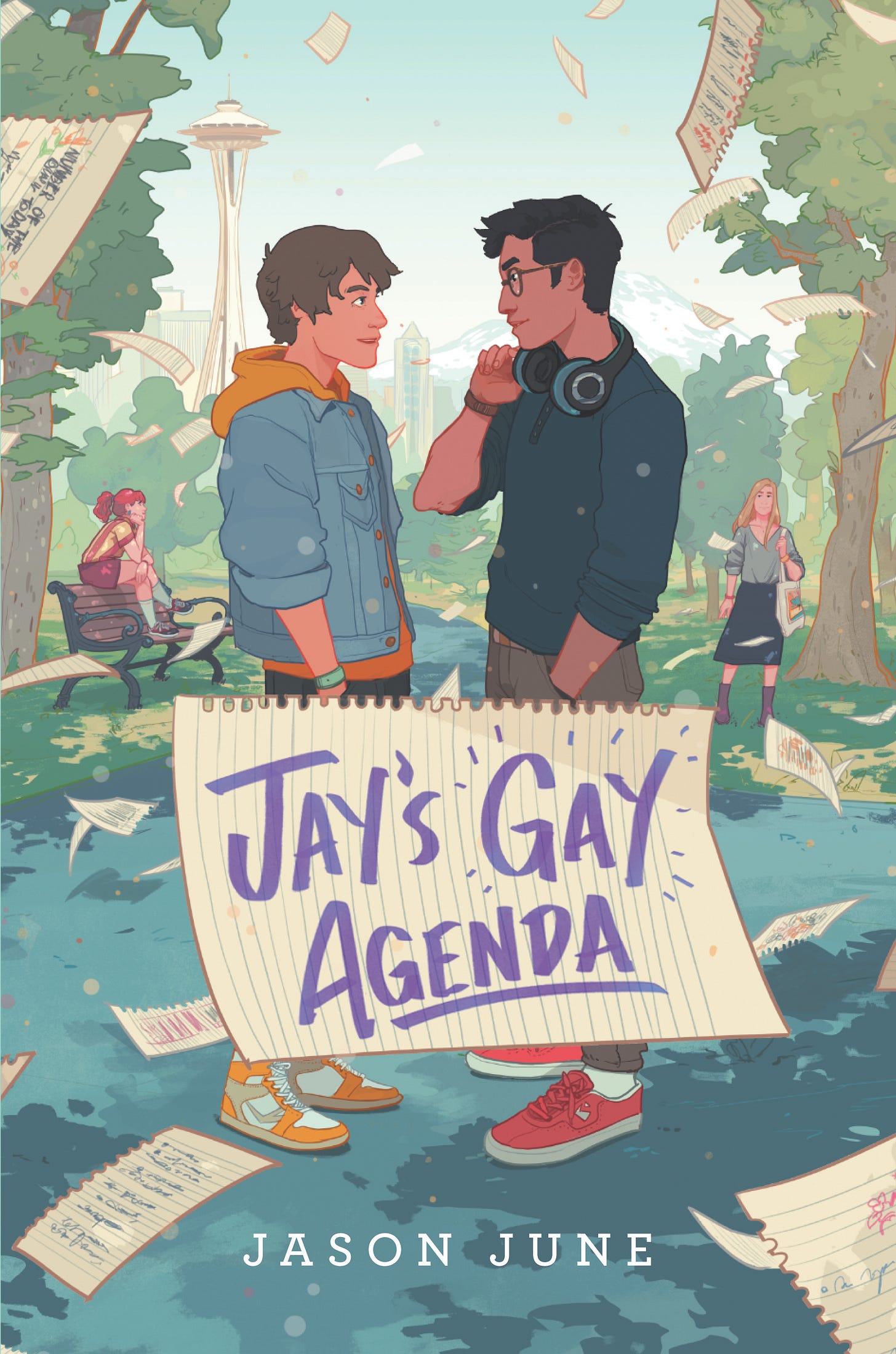 Just look at it. LOOK AT IT! Can you feel the love between Jay and Albert? I sure can. There's sparks, electricity, all kinds of vibes coming off the two of them. When I first saw this image I teared up and whooped and couldn't stop smiling, all sorts of memories of crushes and first loves and jolts of feelings and hormones coming on so strong you can practically see them smacking me in my heart in the best way.
And I can't stop robsessing over the details. I love the way Jay has a hoodie on under his jean jacket, his country denim-on-denim style getting a small, hip city upgrade (I know, I know, and as Jay points out in the book, it's not hip to say hip, but here we are), and that he's slammed his hands in his pockets so he doesn't make any clumsy moves in front of this guy he's totally falling for. I adore that Albert has headphones around his neck, which is so totally him as a big time gamer, and that he's fidgeting with one side of them as he gets just the right amount of butterflies in his gut. Lu (Jay's BFF from his hometown) is there, sitting on the bench in her diner uniform and looking off into the distance, daydreaming about what life could be like after high school. And then there's Max, rocking his femme fashions, and his inner monologue is like, "Okay, hi, yes, I'm so happy for the two of you being in love, but we have the Homecoming dance to plan so kiss already and let's get out of here."
Then there's the whole heart of the story and Jay's personality shown through the lists flying through the air. I may be overthinking it, but I think this is a perfect way to show how Jay's life gets all caught up in his list-making, and how he can at times prioritize marking items off his agendas over just enjoying the moment and not worrying about what item to cross off next. And that hand-lettering for the title is just *faints from over-enthusiastically screaming about how perfect it is*
Ricardo Bessa is the brilliant illustrator behind this cover. I cannot thank him enough, and YOU HAVE TO CHECK OUT ALL OF HIS WORK. Go to Ricardo's website here. There are so many gorgeous portrayals of queer love and lust, my favorite being the drawing of big, burly bakers for the zine Burl & Fur. After you've checked out his site, do yourself a favor and follow him on Instagram and Twitter too ❤️
Another big thanks to David DeWitt, the designer who helped bring the whole JAY cover and the upcoming book jacket to life. HarperTeen is a dream on all fronts!
Our last bit of news is that JAY'S GAY AGENDA has an official release date of June 1st, 2021! This day feels so appropriate for multiple reasons:
June is Pride month and I'm so jazzed that Harper has been so supportive of a title that has GAY AGENDA in it in big, bold, capital, purple letters!

June is my namesake month, and I'm so happy that my name reflecting my genderqueer identity gets to be on this super queer book!

June means summertime, and summertime means sunshine, and sunshine means beaches and another author bucket list item of mine has been to have a book described as a "beach read"! 🏖
Okay, I need to stop there because you're going to get a lot of lists in JAY'S GAY AGENDA. If you want to see all of those in person as well as stare at this cover in real life like I for sure am for hours and hours on end, you can preorder JAY on Bookshop, IndieBound, Barnes & Noble, Amazon, or my local indie bookstore, BookPeople!
I love y'all so much, and thank you so much for being on this journey with me 😭
Jubilantly,
Jason June