Discover more from Jubilantly Jason June!
Thoughts, updates, and book news from writer mermaid, Jason June!
We Got Ourselves a Triple-Header
In Which We Look at Not One, Not Two, but THREE Mermicorn Island Covers 🦄🦄🦄
Y'all, I cannot get over how much fun the JAY'S GAY AGENDA cover reveal was last week. The immediate outpouring of love and support filled me up so much I felt like I was Violet Beauregarde swelling into this big round human but instead of purple I was rainbow-colored. And instead of being full of blueberry juice or whatever that was, I was filled with so much queer celebration. If that's what makes me burst, so be it.
So before I combust in a Rip Taylor-esque explosion of confetti, I wanted to share with you even more covers, this time from the Mermicorn Island series! The unbelievable illustrator, Lisa Manuzak Wiley, has captured Lucky and his friends so perfectly, it's fin-credible! Without further ado, here are the covers for the first three books: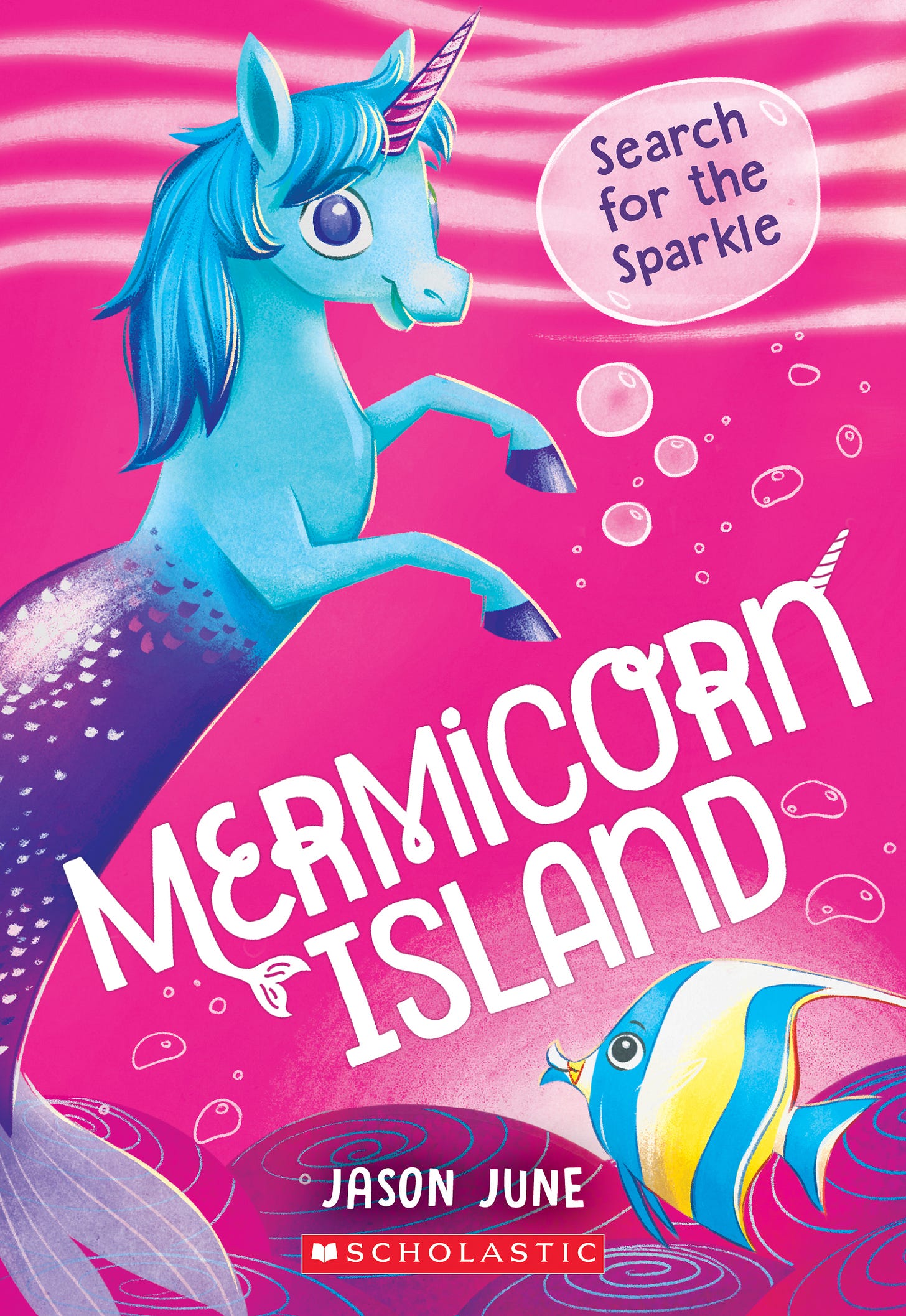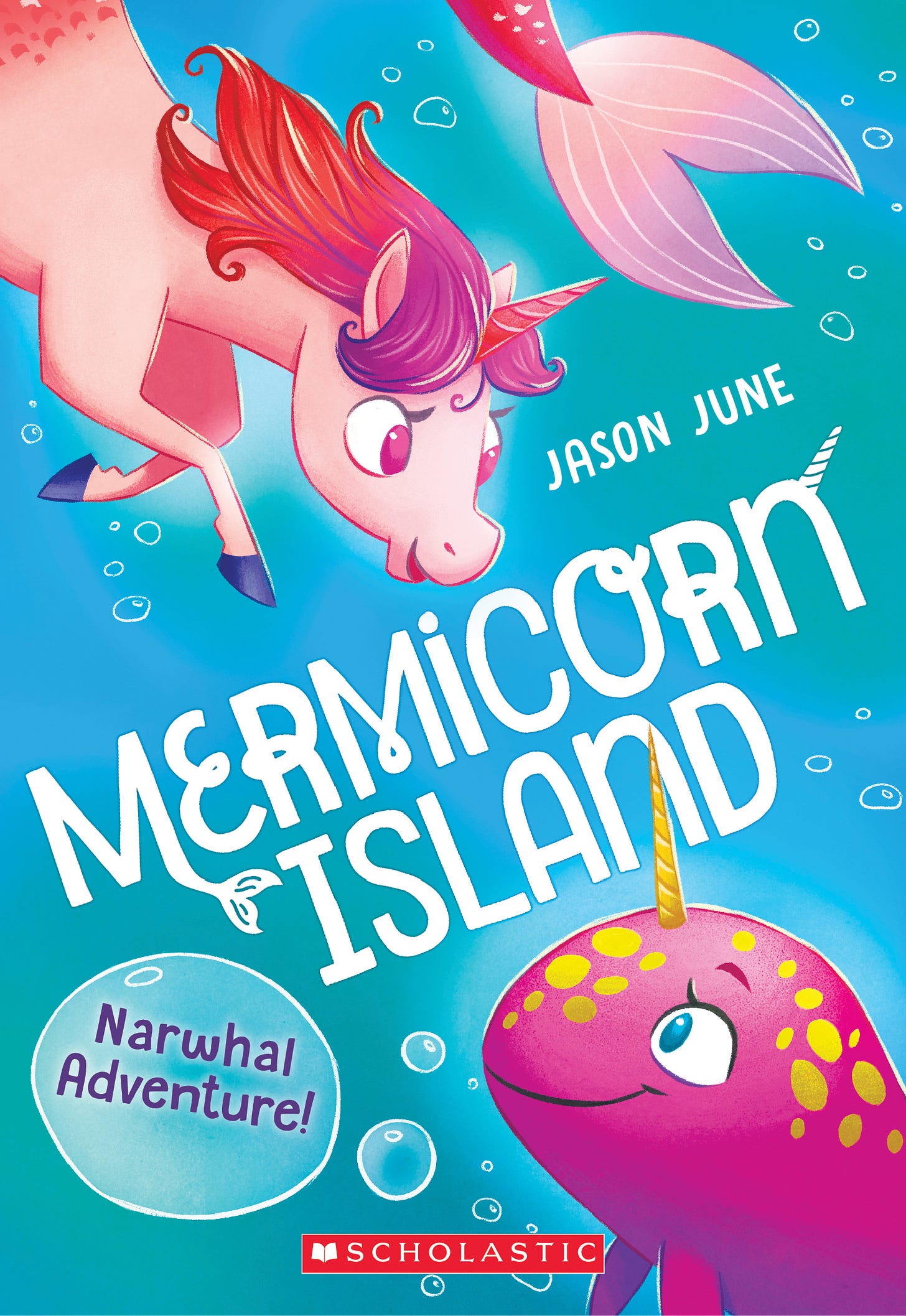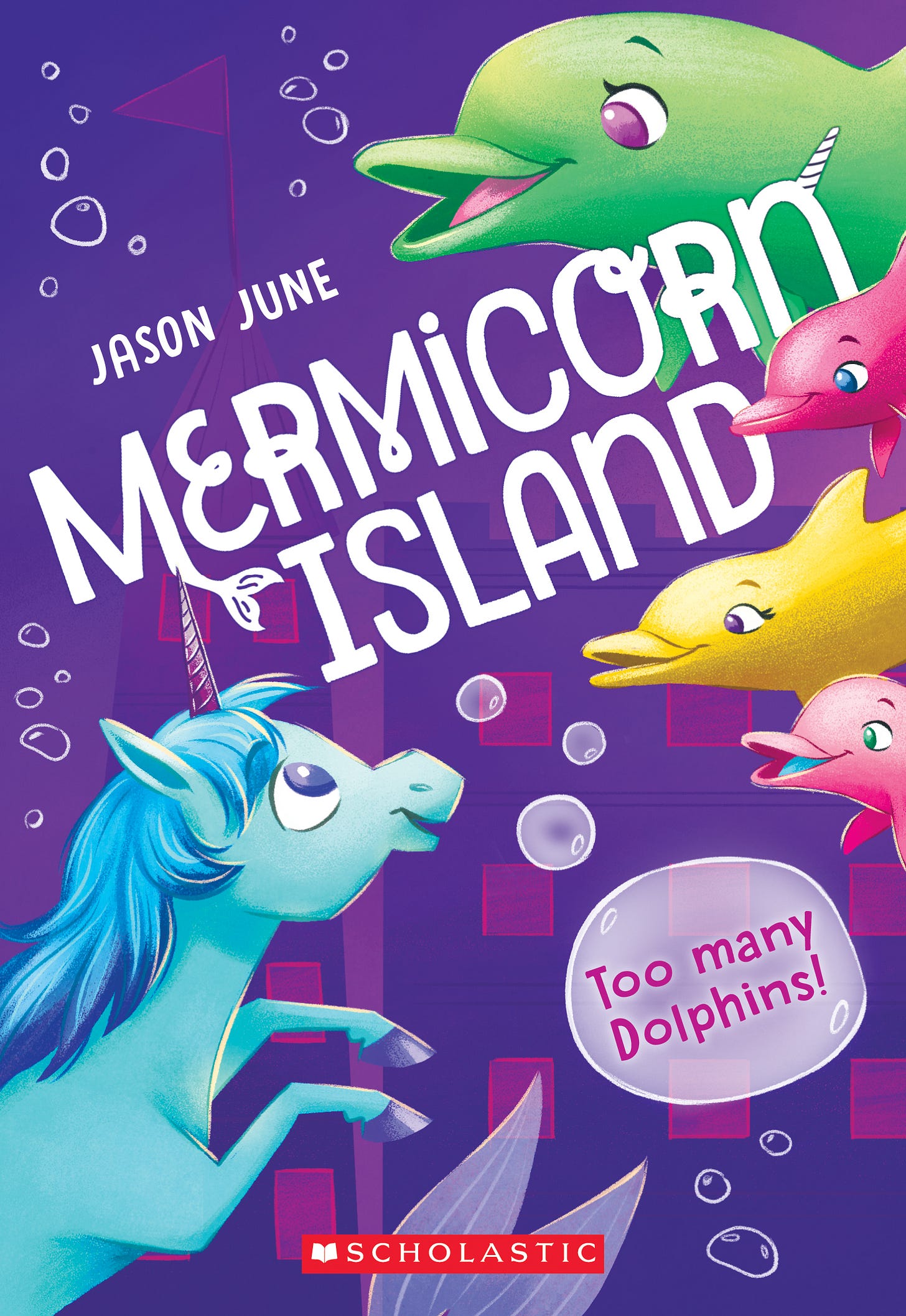 Seriously, I cannot look at these without a huge grin spreading across my face! I think about what it would be like to be a mermaid 25/7 (and yes, these thoughts are so magical they somehow add an extra hour to the day), and Lisa has really brought the whimsy of what I've always thought that would be like to life. Look at how cute Lucky is, rocking his purple tail and his blue mane. Then we have his mermicorn bestie, Ruby, and their new narwhal gal pal, Nelia, in the middle. And finally, the third features Echo, Lucky's adventurous dolphin buddy, and all her magically-created copies. I just can't with these covers!
And don't even get me started on the logo. That mermaid tail on the M! That unicorn horn on the N! The first time I saw it, I flopped on the floor like a fish with pure joy!
Big thanks not only to Lisa, but also to the cover designer, Yaffa Jaskoll, and Anna Bloom, my un-mer-lievable editor. The three of them really outdid themselves and I'm sending a whole treasure chest full of love their way (this treasure chest reference will make more sense when you read the books, I promise). You have got to go check out Lisa's website here. And then for even more happiness, go to her Twitter and Instagram. Lisa has the most mer-mazing mermaid drawings and adorable corgis on her Insta that I. Can't. Stop. Staring at! I love her mermaids so much I bought a merdrawing from her Etsy shop (and really you should too) 🧜‍♀️
Get your hands on these fin-tastic mermicorns and books when the first two—SEARCH FOR THE SPARKLE and NARWHAL ADVENTURE!—drop on February 2, 2021. The third—TOO MANY DOLPHINS!—releases July 6, 2021. We're aiming for our 7-to-10-year-old readers, but any-corn can join in the fun, and you can preorder them and any of my books here.
Is it 2021 yet? I know I'm not alone in wishing there was a fast forward button for us to get there. ❤️
Jubilantly,
Jason June