Will You Be Porcupine's Valentine?
In Which We Spread the Love and Bask in the Cover of PORCUPINE CUPID
I've always loved love for as long as I can remember, and we have The Little Mermaid to thank for it. That was the first movie I ever saw in the theater, and I distinctly recall toddling away from it with my chubby legs and two-and-a-half-year-old mullet knowing three things: 1) that my wedding would be on a ship, 2) that my wedding guests would be merpeople, and 3) I'd be as lovestruck with my partner as Ariel and Prince Eric were (but without the weird "give up your voice" to be hot subtext, or the teenage-ness of Ariel when she ties the knot…I was very aware when I was pushing three-years-old).
While I didn't get married at sea and King Triton RSVPed "no" to the invite, I was completely lovestruck. My vows even included a bit about each day together being another scene in the greatest love story ever told. I couldn't help myself. I love love, and I've literally been picturing my life as a love story since my popcorn butter-smeared fingers could grasp the concept of what it meant to give your heart to another person.
So it should come as no surprise that my debut novel, JAY'S GAY AGENDA, is a romantic comedy, or that when I created my Picture Book Bucket List, "Publish a Valentine's Day book" was at the top in extra bold pink and red marker with heart stickers around it. That dream will finally become a reality when PORCUPINE CUPID, illustrated by the most swoon-worthy of illustrators, Lori Richmond (who you should follow right now!), comes out in time for Valentine's Day 2021 (officially pubbing on December 1st of this year). Check out this unreal cover that has filled my heart up so much my aortas are on the verge of tearing: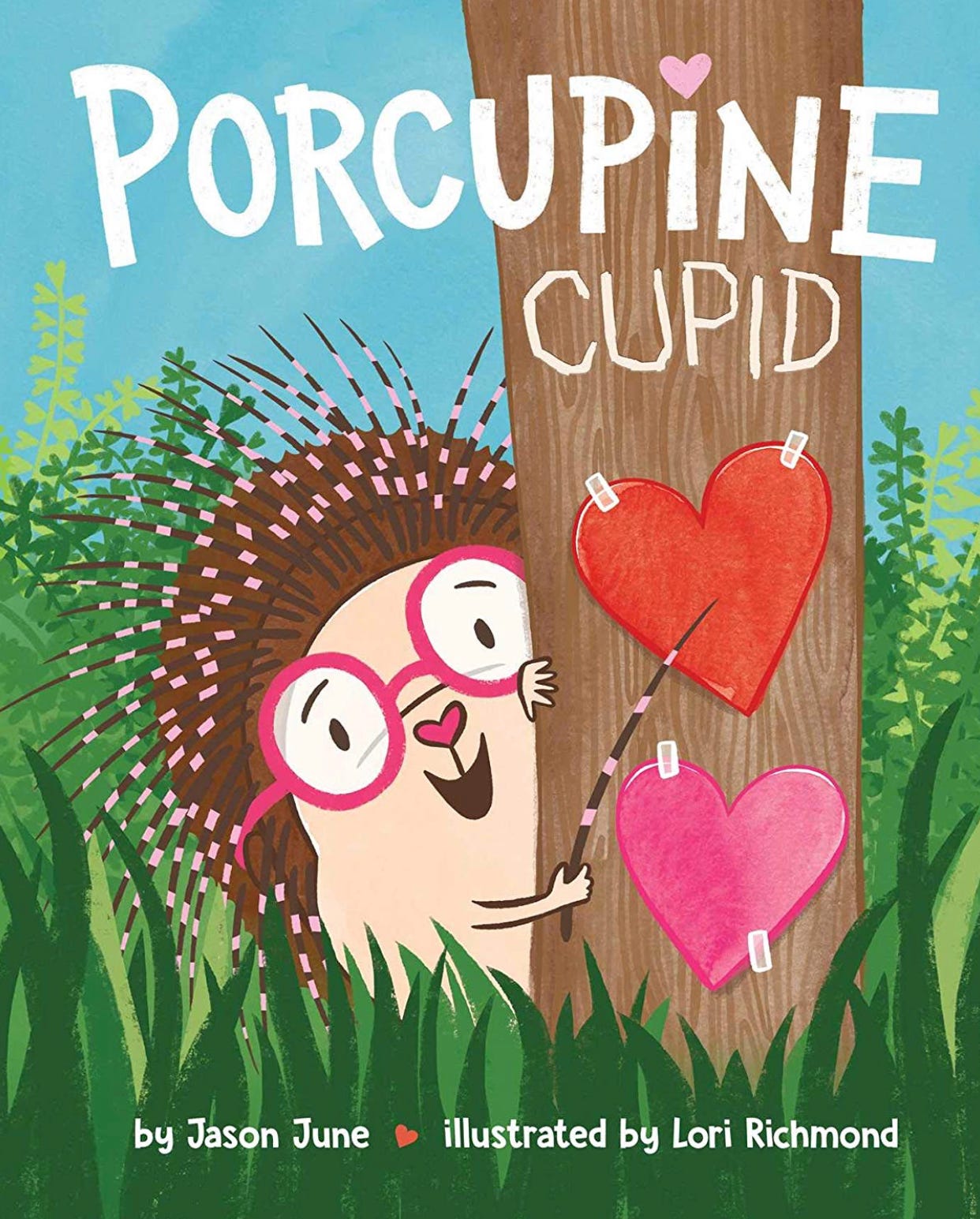 Do you see how the leaves are all hearts?! Do you see how Porcupine's nose is a heart?! Do you see the pink and red hearts taped to the tree that are the exact replica of the pink and red hearts on my Picture Book Bucket List?! Lord and Taylor, if there's such a thing as picture book soulmates, Lori is mine, because every time I look at this dang book my heart goes pitter-patter.
I'm certain this book isn't doctor-recommended because the heart palpitations don't stop there. PORCUPINE CUPID ended up not just being a book about Valentine's Day, but a book about finding love, about how the journey to your soulmate can be painful, but that the bond you build from that pain is something that can bring you closer together. And how that experience of finding love is universal, whether you're straight (we have straight raccoons!), or gay (gay bears!), or lesbian (lesbian bobcats!), or transgender (a transgender bear!), or genderqueer (a genderqueer yoga-enthusiast bunny!).
Not to beat a dead horse (what a terrible saying, poor dead Mister Ed), but this book has been a real labor of love, too. It originally sold in December 2015, so by the time it comes out it will have been five years since Simon & Schuster made an offer. Over that time, my acquiring editor left, I was reassigned to a new, equally awesome editor (honestly, the McElderry team is full of geniuses!), I got married to my husband, and I became more and more confident in my genderqueer self. At first, I was so disheartened that this book was going to take so long to release. In a gross writer ego moment, I was certain the gap between WHOBERT and PORCUPINE CUPID would make people forget about me, or that somehow I wasn't a "real writer" if I didn't have books coming out at least every other year (who knows how I even came up with that timeframe 🤷‍♀️ ).
In hindsight, I think the universe needed me to wait before my second book published. I had some metamorphosing to do. First of all, I needed to know what marriage was like IRL. It turns out it's the amazing, beautiful journey that I always fantasized it would be while singing "Kiss the Girl". This isn't to say that marriage is for everybody, but I've found the bond from pledging your life to someone completely uplifting. To say that you'll be there by their side through anything and everything, good and bad. For me, the things that boost me up the most are the little seeds of love, the small acts that show how much you're cared for and depended on. It's the vase of white roses waiting at home when I've been traveling for a writing retreat, the surprise tickets to Detective Pikachu despite not knowing the difference between a Chikorita and a brand of bananas, being the only phone number known by heart in this day of cell phone contact apps. And, my personal favorite, being my hubby's Valentine.
While there's a great big amount of Valentine's books celebrating love, the vast majority of them focus on heterosexual couples exclusively. Even when all the characters are animals, you can so often tell through gender cues that these are straight critters. So it's probably no surprise that I never saw a book that featured same-sex Valentines growing up. It would have saved so much torment and confusion, because even when I was that mullet-sporting toddler, I never pictured my wedding with a woman. I just knew deep down that I wanted to be the mermaid marrying Prince Eric. If I had had more book options showing couples that resembled what I imagined, I wouldn't have thought my hopeless romantic dreams were impossible. Getting married in the summer of 2017 and sharing those little moments of love with my husband helped me realize that I wanted a Valentine's book showing couples of all kinds. That way every kid knew that even if their heart showed them a future as part of a couple that doesn't fit the mainstream, it is still possible and valid and just as full of love.
This might seem like an obvious conclusion for openly gay me. But at first we thought we might showcase couples where gender was ambiguous, where any reader could imprint themselves on the characters. But after getting married—a right that was only so recently won—I realized that going genderless didn't feel right. That allowed for erasure. For people either unintentionally or very intentionally to tell kids that all these couples are exactly like Mommy and Daddy, or Aunt Carol and Uncle Tim, or Mr. and Mrs. Jefferson. There should be examples of all those couples, but we should also see representations of Daddy and Papa, of Aunt Carol and Aunt Lisa, of Mrs. and Mrs. Jefferson. So we decided to include those representations by making the characters' gender-expression more explicit to showcase an array of sexualities in our book.
This decision to highlight gender in subtle ways coincided with my not-so-subtle journey of self-discovery. In 2018, I began experimenting with feminine fashion, wearing clothes that better embodied the feminine energy inside of me. That was a time of growth that led to me coming out as genderqueer and choosing the name Jason June. It also made me realize that PORCUPINE CUPID could be even more inclusive. I think that decades of mostly seeing cisgender characters in picture books made that my default, but that didn't have to be the case in our love story.
At this point it had been three years since PORCUPINE sold, and Lori was in the thick of the illustration process. I asked my editor just how inclusive we could make the book. The resounding answer was as inclusive as we wanted. Lori was a million percent on board, and we decided to make sure gender-inclusiveness was part of the story too. We wanted to be sure we handled this well because gender identity isn't always apparent and it's not a stranger's right to know unless a person chooses to share it. We eventually decided that our characters openly indicate they are outside the gender binary by incorporating their specific queer community pride flags in their wardrobe. The end result made me fall in love with this book even more.
All this backstory is to say that PORCUPINE CUPID will be a Valentine's Day book for everyone, showing how all communities get to experience the thrill of flirting and falling in love and finding that perfect soulmate. If that's the kind of message you want out in the world, I would be so honored if you declared Porcupine your Valentine by preordering PORCUPINE CUPID. Preorders are so important because they let publishers know what the public is interested in, what special book nuggets they can direct their limited marketing resources toward to help lift up and boost. Here are a couple handy preorder links:
(Just type in your zip code at the above link and you can preorder from your local indie bookstore!)
I know preordering/purchasing books doesn't work for everybody's budget, but you can be just as impactful even if you can't buy the book. You can request a copy at your local library. You can tell your family and friends and lovers. You can tweet, or share this newsletter, or create Porcupine fan art. Every bit helps!
Normally, I wouldn't focus so much on this part of the process. But I think it's exceptionally important that the world knows how much the idea of inclusive love, of Valentine's Day for all, means to us. Even if spreading that message doesn't include Lori's and my book, that's okay too. Just spread the love.
Do it for the toddlers with bad haircuts who know their visions of romance don't quite fit the mainstream. For that teenager who's feeling the electric jolts of flirtation for the first time. For that couple getting married or taking the plunge to devote their lives to each other in meaningful ways. For those octogenarians who've been holding hands together for 50+ years.
Do it for love. ❤️